Spent a cracking day off work stripping my 4T engine. Got the magneto side stripped without a problem but have hit a snag right at the end of the clutch strip. Ignoring the fact that the copper shim has been destroyed and there are particles of copper everywhere (pic 2), the main problem is that I canít remove the clutch chain wheel centre off the gearbox main shaft (pic 1). It rotates happily around the shaft in its assembly position but within a millimetre of trying to withdraw it it starts to bind and I have failed to persuade it to move any further after an hour of trying. I can press it back down and have tried twisting it off with the box in first, levering it Etc but itís too tight on the shaft. Any tips?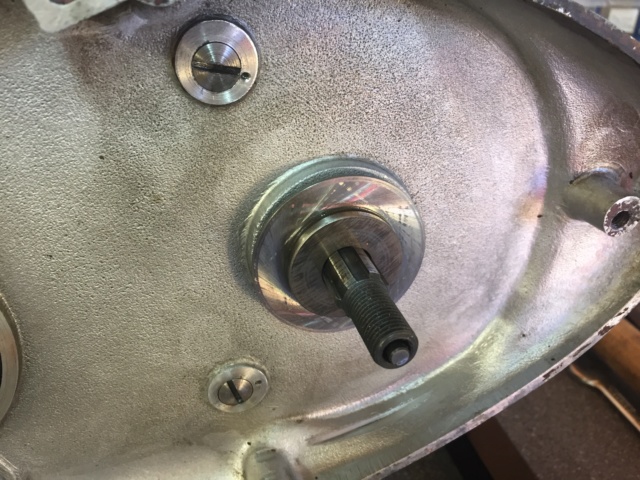 fulmar88




Posts

: 583


Join date

: 2010-03-15


Age

: 52



As you say that clutch centre should just slide off the shaft, i can only assume there is a burr on the shaft preventing it coming off ?? Try a 3 leg puller on it, if this fails then the only re-course will be to take the other side of the gearbox apart and tap the main shaft through the centre with a copper mallet ?
JH

piston 197

Moderator




Posts

: 4256


Join date

: 2008-08-17


Location

: ross-on-wye



Thanks JH. I'll have to see what pullers are available as the one I have has fingers too thick to get under the clutch centre as the gap is only about 3mm. There doesn't seem to be any burrs or any visible damage. It's almost like it was undersize but was tapped on anyway and has worn a tiny clearance in its installed position on the shaft so it now won't come off. You'd have thought the clutch centre would have worn though rather than the mainshaft. I did try tapping the inner chaincase off the shaft (after removing the nuts/screws) to take the clutch centre with it but access is awkward and it is difficult to keep it square.

fulmar88




Posts

: 583


Join date

: 2010-03-15


Age

: 52



It may have some of that copper shim trapped in there?
Gentle heat?
Failing that are you stripping the gearbox as you could knock that share through but would still need to be careful

Ken

kerabo




Posts

: 2608


Join date

: 2008-02-11


Age

: 68


Location

: Falcon 87..1936 Cruiser 39. Falcon 81 Green Lane bitsa. Sunbeam S8. Honda Deuville.



New day, new approach. 10 minutes with a makeshift puller and significant force moving it a fraction at a time and the clutch centre is off. Max hole diameter of 14.05mm. Splines measured a minimum of 14.2mm. No wonder it was tight.
Difficult to take a picture whilst holding two spannerís but you get the gist. Iím assuming that the hole is under size as everything else fits fine on the splines.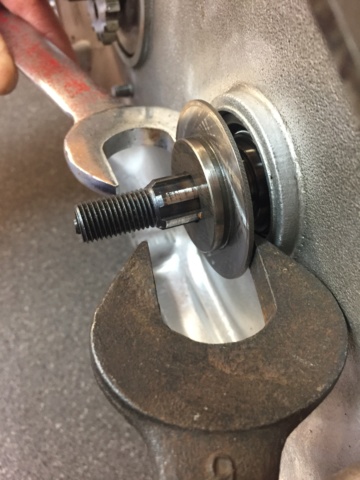 fulmar88




Posts

: 583


Join date

: 2010-03-15


Age

: 52





Similar topics
---
Permissions in this forum:
You
cannot
reply to topics in this forum