Hi all, can anyone tell me how this cup is retained? I donít want to get too rough but at the moment it doesnít want to budge ( I assume itís removable otherwise how can you fit the bearing?). I assume thereís a felt seal assembly and a spacer in there but as with most late FB models the handbook/spares book doesnít show the Ďnon-speedo driveí rear hub.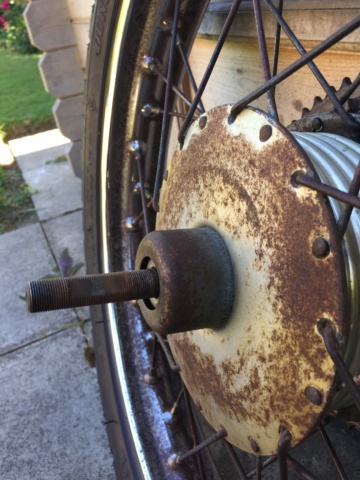 fulmar88




Posts

: 582


Join date

: 2010-03-15


Age

: 52



It is just a press fit, if you drift the spindle out from the opposite end it will most likely come off with the spindle and bearing, but if you do not want to risk it a kettle of boiling water over it may expand it enough to loosen it ?
JH

piston 197

Moderator




Posts

: 4247


Join date

: 2008-08-17


Location

: ross-on-wye



Thanks John. I tried the kettle, then a hot air gun but itís not budging. As this is a preservation job and the bearings feel ok Iím not going to change them. They have previously been changed unless FB fitted Ďmade in USSR Ď ones at the front and Ďmade in Japaní at the back... I wanted to remove the cup to regrease the offside as I have with the near side but the cup is starting to deform and bind on the spacer so Iíll leave it for now. Iíll try your first method if I ever have cause to change the bearing.

Steve.

fulmar88




Posts

: 582


Join date

: 2010-03-15


Age

: 52



Personally i fit the 2RS bearings with the rubber shields, then greasing is a thing of the past, and the liklihood of getting grease into the brake drum is practically nil.
The bearings are usually less than a fiver each
JH

piston 197

Moderator




Posts

: 4247


Join date

: 2008-08-17


Location

: ross-on-wye




---
Permissions in this forum:
You
cannot
reply to topics in this forum