Can anyone tell me what to do about the slack on the primary chain on my AMC 150 engine, it scrapes against the bracket for the primary chaincase cover and makes a right racket. I bought a new chain from Villiers Services thinking this would cure it but it's no better than the old chain. I can't see any way of tensioning the chain, am I missing something?

speedtwinbri




Posts

: 22


Join date

: 2016-04-01


Location

: Sunderland



Hi speedtwin If your engine set up is the same as my AMC 87 the chain is adjusted with shim between gearbox and crankcase to get the correct play.

Regards
Laurence

banjo boy




Posts

: 249


Join date

: 2013-10-22


Age

: 54


Location

: cambridgeshire



Hello 
As you may have seen on an earlier post I'm trying to get a Model 95 with the 150vcc engine back on the road too.
Yes the spacer between the crankcase and the gearbox is the fix for just about every other Villiers / AMC engine.  This is where you are on a bit of a limb with the AMC 150.
The crankcase gearbox can be fitted in several orientation is and hence is attached by several bolts.  As far as I know there is virtually no adjustment as its down to the amount of play of the bolts in the mountings.
Maybe I'm wrong but is there much wear on the engine sprocket? 
A new sprocket is all I can suggest.         
Best wishes 
Keith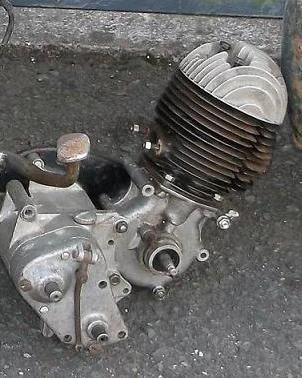 keith livingstone




Posts

: 71


Join date

: 2012-11-25


Age

: 61


Location

: Northern Ireland



Thanks for your help Keith. The engine sprocket looks ok and I don't want to go to the expense of a new one as I did with the chain only to find no improvement again. I guess the only solution is to live with the noise or try and rig up some sort of tensioner.
By the way I got the lighting coil problem sorted out and now they are working as they should. I will put some pics of the bike on here if I can figure out how to do it. Good luck with your restoration.
Cheers, Brian

speedtwinbri




Posts

: 22


Join date

: 2016-04-01


Location

: Sunderland



Can anyone tell me how many teeth there are on the crankshaft sprocket of the AMC 150 engine? I am still having problems getting the tension right and wonder if someone has fitted a smaller sprocket for some reason. I know I'm clutching at straws but I'm determined to sort it out.
Cheers, Brian.

speedtwinbri




Posts

: 22


Join date

: 2016-04-01


Location

: Sunderland



sprockets on the Fulmar amc 150 engine 18t
clutch 43t
g/box 16t
r/wheel 46t
running on tyre sizes3:00"x18"

I hope this is of some use to you.

Tony.







top brass




Posts

: 148


Join date

: 2012-09-29


Age

: 78


Location

: bolton lancs.



I have new gearbox sprockets ( 16T) for the AMC 150cc 15T engine if anybody needs one ?
JH

piston 197

Moderator




Posts

: 4306


Join date

: 2008-08-17


Location

: ross-on-wye




---
Permissions in this forum:
You
cannot
reply to topics in this forum