Hi guys
Chain woes - wear on the swinging arm!
Surely a problem many have encountered but I've never seen mentioned, or is it me? I've had my 67 on the road for 7 years and covered about 5,000 miles and in the last 2 years a model 58. After the first year or so I was shocked to see the chain had worn a significant track on the top side of the arm just above the pivot.

Have any other members had similar problems and come up with a solution?

I keep the chain well adjusted but have had to resort to fitting a small steel plate to take the wear instead. In addition I run 18t or 19t sprocket with 50t rear to raise the chain run. I thought maybe my rear shocks were too high / long but find they are the original refillable 50's units.

Any help much appreciated
Keith


keith livingstone




Posts

: 67


Join date

: 2012-11-25


Age

: 61


Location

: Northern Ireland



The 67 I restored was the same. I had the gash welded up, but took no other action. I think they are all prone to this problem.
FB were aware of this and they had a special tool which you clamped in to the rear end in place of one shock absorber to set the chain tension with the mean position of a compressed shock absorber, it was only ever a compromise and chain wear appeared on the swing arm as the chain hit it.
On my trials based 67 i used years ago i machined a piece of black "U" shaped urethane about 1/8" thick at the bottom, with sides about 3/8" high and fixed this to the top surface of the swing arm, cured the noise of the chain hitting the swing arm , stopped the bottom chain sideplates wearing flat on the bottom edge, and acted as a chain guide.
JH

piston 197

Moderator




Posts

: 4258


Join date

: 2008-08-17


Location

: ross-on-wye



Hi guys
Thanks for getting back.
John, the plastic block you suggest sounds like the solution both from the noise and the wear point of view. I 'll have to see about getting one made up.

Best wishes
Keith

keith livingstone




Posts

: 67


Join date

: 2012-11-25


Age

: 61


Location

: Northern Ireland




bill2b




Posts

: 101


Join date

: 2017-09-26



Hi all  i'm sitting here reading your post and that made me think i can't remember seeing any marks on my swing arm when i was restoring it  so i have been out to the workshop and had a look [see pic ]  there are no marks top or bottom so this prob must be down to the setup with rear shocks and chain tension my bike had 17 teeth final drive and 44 teeth rear wheel, i think this is standard  ps don't judge paint work yet as swing arm has only had dust coat of black ready for final prep before top coats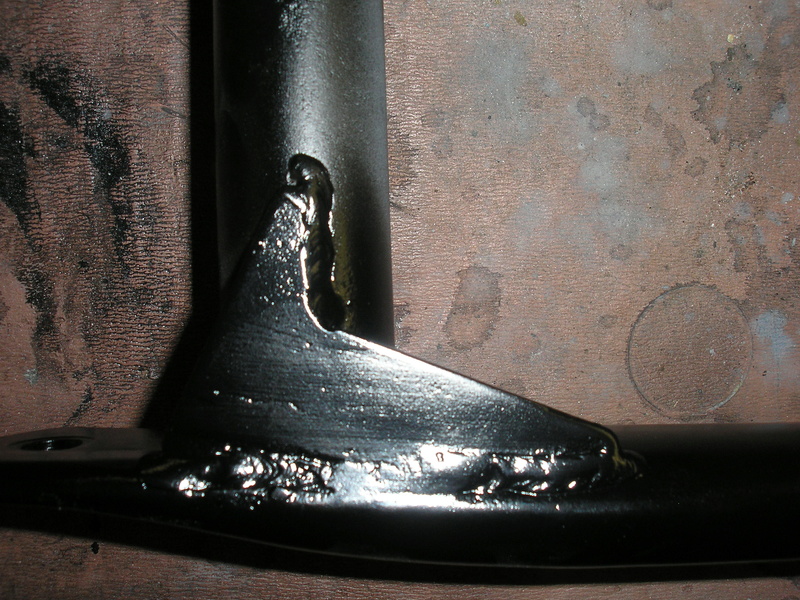 alan67




Posts

: 95


Join date

: 2017-10-30


Age

: 62


Location

: lowestoft suffolk



Hello guys again

Certainly having a sacrificial guide seems a pretty good bet with my bike and better if it is a plastic / low friction material.

Just one thought. Naturally enough rear shocks come in different sizes.
Mine are the old refillable type. Mounting centres appear to be 12" (305mm).
Would this be the standard size? If I had ones of say 11" then this would certainly ease the problem.

Alan your swinging arm certainly looks pretty good. What is the mounting centre distance on your 67?

Thanks guys
Keith

keith livingstone




Posts

: 67


Join date

: 2012-11-25


Age

: 61


Location

: Northern Ireland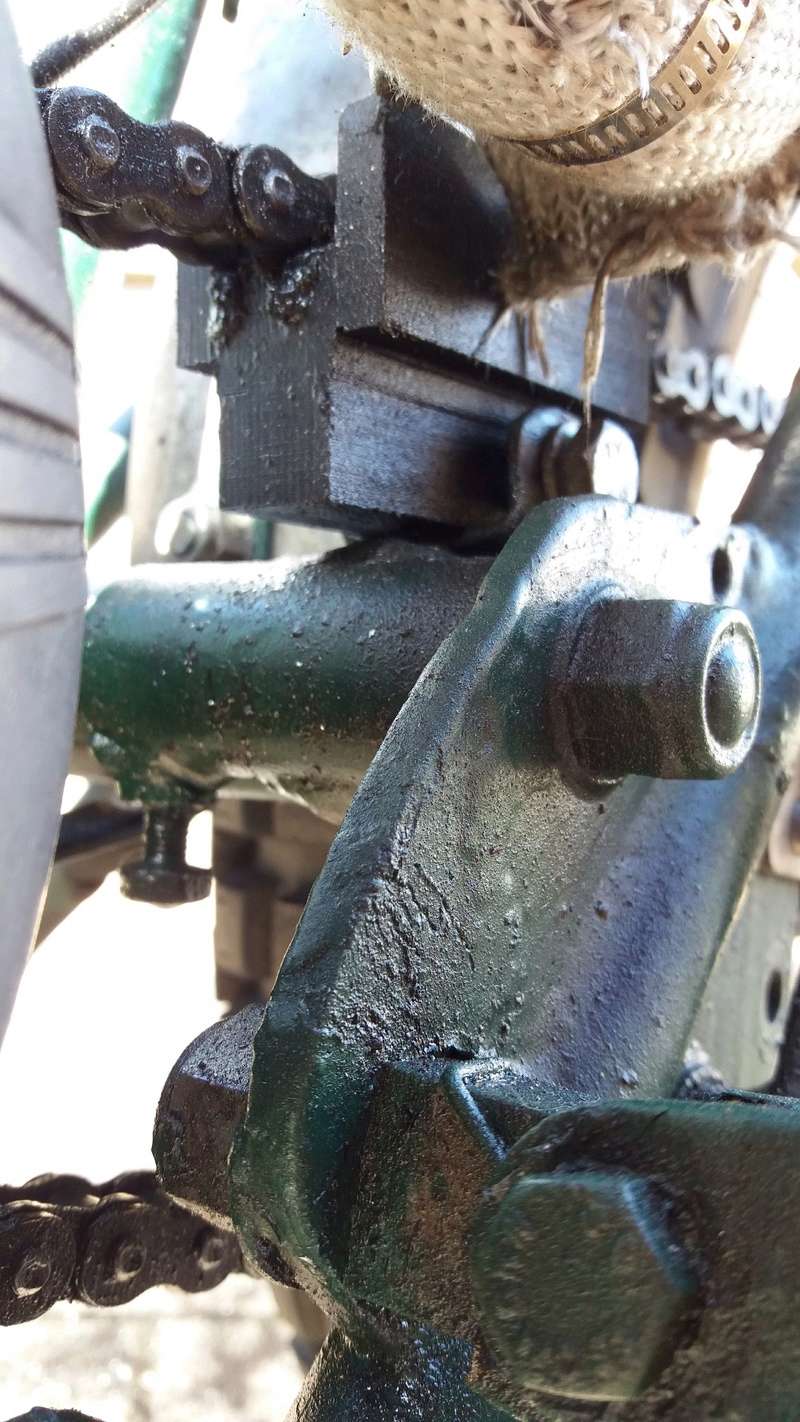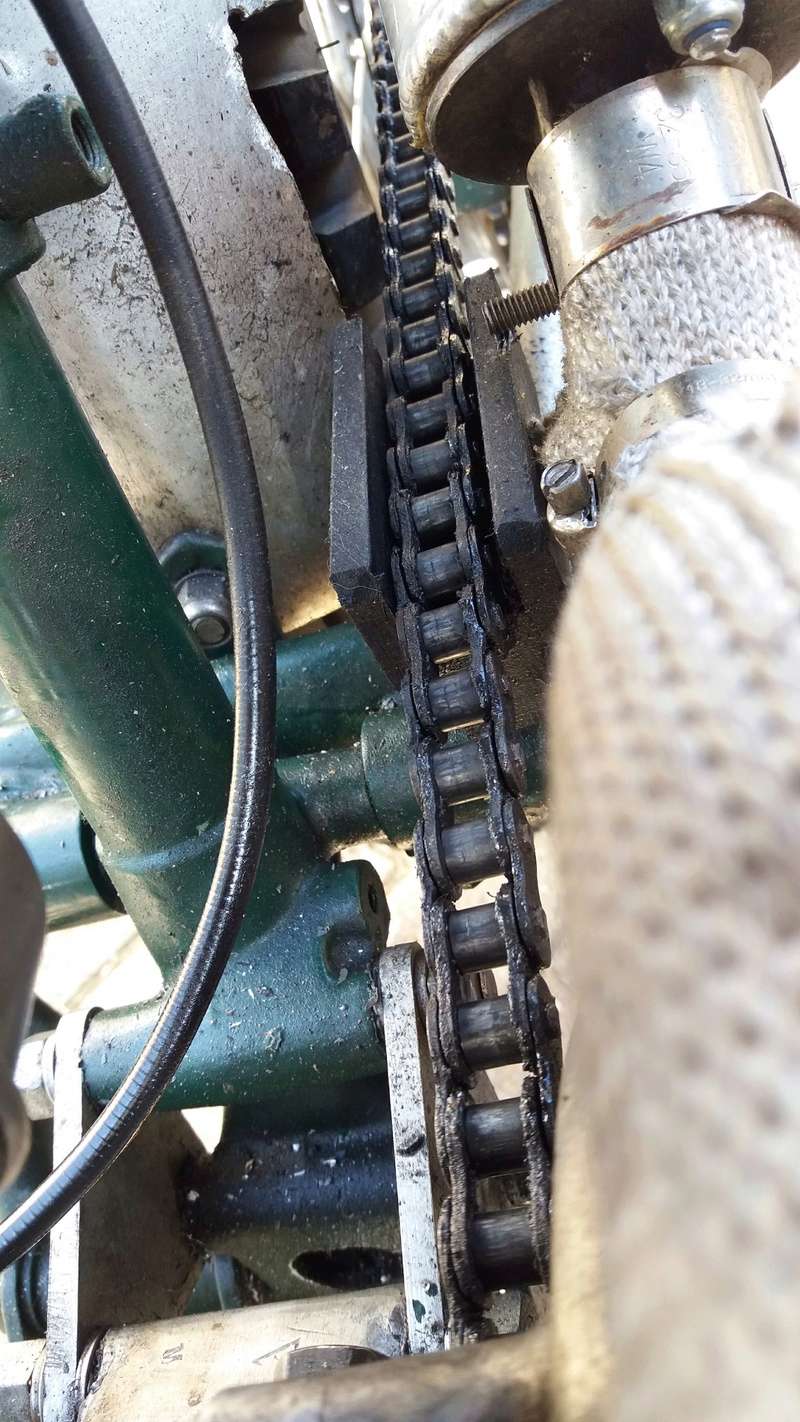 Not the same FB but my chain on my project bke ran so close to the trials tyre I wanted to make sure that it never touched when slack.
I should have lifted the back of the engine an inch when I fitted the 8E.
But it works well.
Remember fitting smaller sprockets can bring the chain closer to the swinging arm.
Ken

kerabo




Posts

: 2608


Join date

: 2008-02-11


Age

: 68


Location

: Falcon 87..1936 Cruiser 39. Falcon 81 Green Lane bitsa. Sunbeam S8. Honda Deuville.



Hi Guys   Keith i can't tell you the distance between mountings of rear shocks as bike is still in 100 bits but i can tell you that my shocks are the old original type taking one fluid ounce of sae 20 oil i'm not sure if to much or to little oil would make any difference to ride height  my bike had 17 tooth front and 44 rear with no sign of probs on swing arm but i have now changed to 15 front and 48 rear so time will tell if iv'e messed things up.   i do like what you have done Ken holding the chain from sideways movement as well as of the swing arm i may have to copy that !  

 Alan

alan67




Posts

: 95


Join date

: 2017-10-30


Age

: 62


Location

: lowestoft suffolk




---
Permissions in this forum:
You
cannot
reply to topics in this forum