See item No 282936675453 titled 1954 francis barnett trials bike and described as "genuine period francis barnett trials bike " at a mere £3300 !!
It is not even a FB frame it is a K7 James frame, the seller says it is 1954 and was never registered untill 1957 ??? it is a James painted FB green

Just for a laugh have a look at another FB a circa 1953 FB Falcon 58 with a 1959 FB Plover logbook ? Item No142776379769


does make you wonder what unsuspecting punter is going to by these two ?

JH


piston 197

Moderator




Posts

: 4248


Join date

: 2008-08-17


Location

: ross-on-wye



Who would buy off "Dodger Am" eh

Its a shame ebay don't check up on this sort of thing even if you report it, I have bought LED lights before when they turned up they were normal bulb types. They gave me a refund but still advertise the product as LED.

bill2b




Posts

: 101


Join date

: 2017-09-26



The mind boggles , it ainít a bad bike considering it is a bitsa I would have it but not at that price tag ,but to say it is genuine and asking £3300 thatís taking the biscuit, some poor sucker will

banjo boy




Posts

: 249


Join date

: 2013-10-22


Age

: 54


Location

: cambridgeshire



just out of nosyness,what would be considered a fair price for that? its quite similar in many ways to mine

Wafflojufflo




Posts

: 6


Join date

: 2017-07-22


Location

: Derby



Hi guys
Bitza bikes while not ideal can be quite a bit of fun
Whatever, it's better getting a bike on the road rather than the bits ending up as scrap.
I took a punt on a James bitza, see attached picture, which was clearly put together many years ago and then left to rot. I picked it up about 4 years ago at a little over £400. †Sure I could see the tank wasn't James but I was a bit naive and was saved by it being a 58 frame under it all. †
What mix of bits do your eagle eyes spot?
It had a BSA C10 front end, RE tank, unknown bars, a James chain guard, Bantam rear guard and fortunately a model 58 frame, shocks and rear wheel.
Initially to get it registered I grafted on my 67 forks and wheels. See second picture. †As mentioned previously thanks John for supplying the front and rear guard, headlamp, handlebars and other bits. Now with a 6E engine the bike's on the road as a rolling restoration.
Give a 'bitza' a go. †You might be surprised
Best wishes †
Keith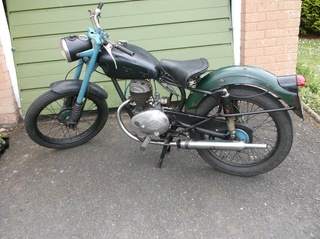 keith livingstone




Posts

: 67


Join date

: 2012-11-25


Age

: 61


Location

: Northern Ireland



Hi Banjo Boy,

I have for sale a very nice F/B 80 Trail type bike with a 225cc 1H villiers fitted It has been totally rebuilt to a good standard. Engine totally rebuilt new crank etc Resprayed professionally re-chromed new tyres tubes wheel rims seat Alloy guards. etc . It is not yet road registered so needs JH to authenticate etc. If you are looking for such I can send you details if you let me have your e mail.
Peter
Hi Peter thank you for the offer, I am not in a position to take on another bike at this moment , although I did say in my reply I would have it ,perhaps I should have put I would if things where different, sorry if this as mislead you by thinking I am looking out for a bike, by your description it sounds a nice bike , why do you want to sell it so soon after all your hard work.

Kind Regards
Laurence

banjo boy




Posts

: 249


Join date

: 2013-10-22


Age

: 54


Location

: cambridgeshire



Hi Laurence,

I am afraid my eyes are on rebuilding a lovely Francis 94 so needs must!

Peter


Similar topics
---
Permissions in this forum:
You
cannot
reply to topics in this forum