Hi guys  as some of you may know i have been working on my triumph t21, so the falcon has taken a back seat for a while, but with the triumph finished i'm back in francis barnett mode , progress so far is frame, forks, mudguards, and tin stuff all blasted and primed , awaiting some small repair before painting,  wheels have been rebuilt and powder coated, new tubes and tyres fitted, which bring me to sorting out and cleaning the parts that need plating, wheel nuts, headstock nut,  etc, i have striped the rear shocks to find that the lower shrouds appear not to have been chromed but may be cadmium plated? therefor would all the other wheel nuts etc been cadmium not [ bzp ] zink? i did toy with painting them black with the rest of the bike, but a bit of bling will brake up the black as there is a lot of it, whats your thoughts

   regards Alan

alan67




Posts

: 95


Join date

: 2017-10-30


Age

: 62


Location

: lowestoft suffolk



I think you will find that all nuts and bolts would have been cadmium plated; the original steel fittings were much stronger than modern stainless steel items. The bad news is that cadmium plating is now totally banned from our modern health and safety world. Sandy

FB vincent




Posts

: 673


Join date

: 2009-01-20


Location

: Hertfordshire



Thanks sandy for the info, as zink plating will soon turn rusty it may pay me then to paint wheel nuts etc, chrome the shocker shrouds and i'm guessing stainless is strong enough for bolting frame and tin wear together? Alan

alan67




Posts

: 95


Join date

: 2017-10-30


Age

: 62


Location

: lowestoft suffolk



Hi Alan
How are things?  Good to hear you're back on the 67  
Meant to get back to you before this.  Chroming on the Falcon 67 is in short supply!
In addition to a few of the nuts around the headlamp and yokes you referred to i can confirm the lower shock absorber shroud were chromed.  As far as nut go if you want
to follow  original cadmium finish Villier's Services provide nearly all screws nuts and bolts in this finish.  
Best wishes
Keith
P.S.  Loading pictures is tricky.  Go to Host Image above and click Select upload your picture. Next choose size of picture. 360px etc,  Then click on Send All,  you should see text lines come up. Then click on Insert,.. I always run preview to check it has been added before sending.
Hopefully this will work  See pic of my 67 in the beginning on 2010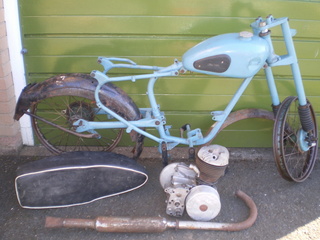 keith livingstone




Posts

: 67


Join date

: 2012-11-25


Age

: 61


Location

: Northern Ireland




alan67




Posts

: 95


Join date

: 2017-10-30


Age

: 62


Location

: lowestoft suffolk



Hi Alan.
Well done it's certainly looking good. What age is your 67? Mine is '54. Matybe some shrouds were chromed and some not. Did you blast all the frame first. Well done you for taking on all the spraying? You've got my curiosity going. Why did you used a yellow primer for for the frame but grey primer under the guards?

All the best
Keith

keith livingstone




Posts

: 67


Join date

: 2012-11-25


Age

: 61


Location

: Northern Ireland



Hi Keith The year of my 67 is also 54 i'm not sure weather it is early or late, may be john as in JH can tell me that when i get bike finished, as for colour you may notice i have a small blast cabnet  in pics, I had all large stuff blasted and etched primed at local blasters which was gray then i blasted all small stuf and primed with etch primer myself which was also gray, i use etch primer from a airasol as it makes life easyer at this stage, [blast a part then grab a can and spray instantly ] so once i have worked though all the parts and got them etched i can then go about making all the repaires , and as you can imagine after sitting in a chicken since 1964 there is a lot of pitting and dents etc to sort out , i have filled all small pits with p38 and larger repaires with lead eg tank had big dent in where forks had come round into it at some point , see pic , so then i spray all parts with high build primer which also is airosol but yellow , i then rub down the yellow until its just about gone you can then see all the little low spots left as they are yellow against the gray back ground continue like that untill all repaires are done then i mix up a spray gun full of celouse high build primer filler and spray the whole lot once again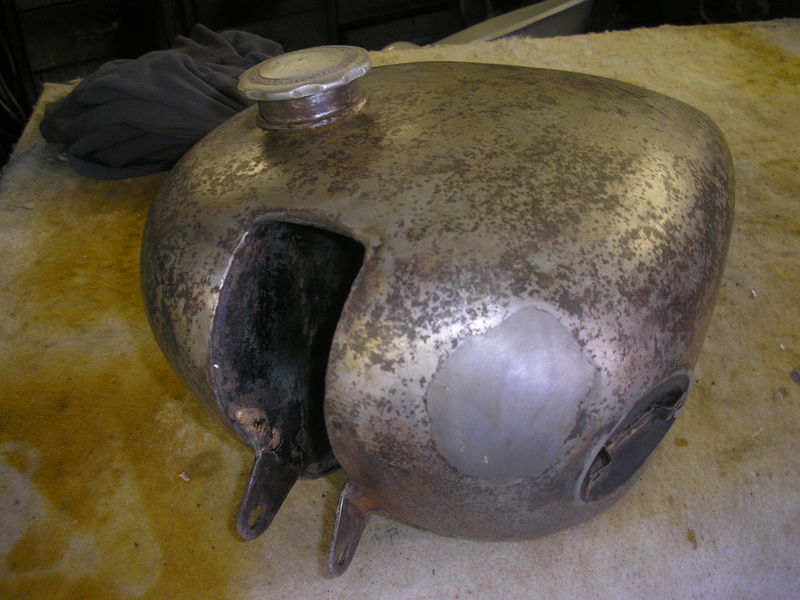 and that is where i am right now,,, ps under side of mud guards i will spray with stone chip before top coat   the hole procedure can be a bit time consuming just like my essay  ha ha    all the best Alan

alan67




Posts

: 95


Join date

: 2017-10-30


Age

: 62


Location

: lowestoft suffolk





Similar topics
---
Permissions in this forum:
You
cannot
reply to topics in this forum