Am really struggling with this
clutch
guys, any advice much appreciated. This is my first British bike rebuild, all my others have been Japanese where when something is totally shot or refusing to cooperate I can just get out the wallet and buy new parts, not so easy here!
I've made the best
clutch
I could out of several scrap clutches. I stripped the
clutch
completely down, removed the back plate and cleaned up the insides, flatted back the friction inserts and inspected the roller bearings. The central hub spins up nice and smoothly on the basket now.
The plain plates were badly pitted and rusted to the friction plates when stripped, I cleaned them up as best I could but after reassembling and turning the
clutch
over and then taking it all apart again there looks to be steel still embedded in the friction inserts of the plates. The pitted plain plates probably aren't helping things (they look ok in the photo below but the other sides are border line rotten on a few). I can see from the scuff marks that the friction inserts have high spots and so the plates aren't making the most of the available contact area, how do I flatten them correctly and how much meat do the inserts need? I have no idea if the thickness level is within limit as it is
I ordered a set of the newly made
clutch
springs currently available on ebay in the hope that it was just saggy old springs. (They arrived today and the dimensions are perfect just for anyone wondering in they're any good) The new springs certainly improved things but I can still turn the
clutch
over by hand when the the pressure plate is done up, ie its slipping even when being turned by hand. At this stage it must be the plates? Does anyone have plain plates as pictured which are free of any imperfections? With the friction plates do they look to have enough meet on them or do I need to reline them? By some fluke I have just enough sintered asbestos inserts as currently fitted to press out the old inserts and reline the two friction plates. I've never relined a
clutch
and only have enough spares to try once with no margin for making a mess of it. Is it a simple case of pushing out the old inserts, sanding down the edges of the new sintered inserts to be an interference fit in the old plates and then centring them on the plate or is there a process involved like how
clutch
corks have to be boiled?
Bare Basket
Plates which I'm using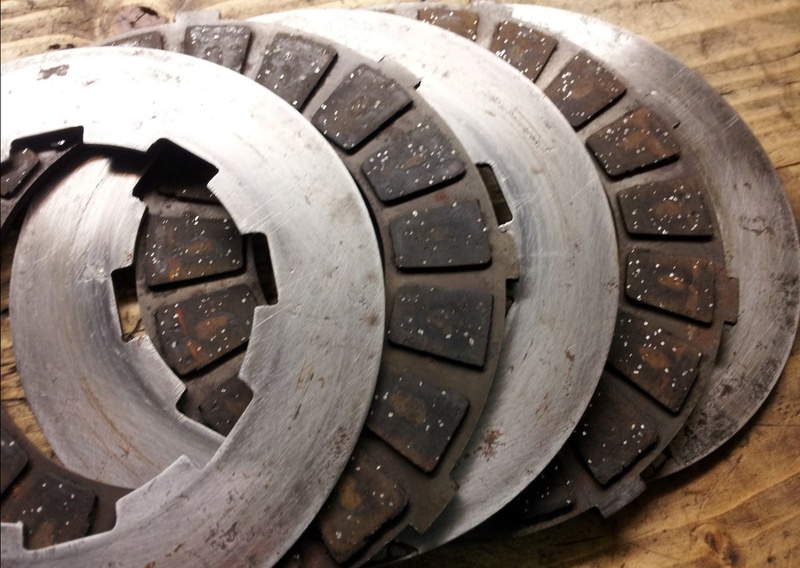 Cruiser79




Posts

: 82


Join date

: 2009-03-05


Location

: Dublin



Robert,

Have you been able to make any progress with your clutch?

J.H. Goddard writing in the FB book 'Motor Cycle Maintenance and Repair' about the Cruiser 80 states (unhelpfully) that 'It is impossible to renew the fabric, which is bonded on, without elaborate factory facilities; even the fitting of the normal fabric inserts calls for skill and perseverance which very few private owners are likely to possess.'  (The bonded friction material referred to is post 1960).

There are clutch parts currently for sale on ebay (6 hours to go), but the plates look just as rusty as yours.

I can send you the relevant pages from Goddard's book if you send me a PM with your email address; I presume you have the AMC 17T/20T instruction manual.

If it is of any encouragement, the clutch on my 20T engine has always worked perfectly, and is probably better than the Villiers equivalent.

Sandy

FB vincent




Posts

: 672


Join date

: 2009-01-20


Location

: Hertfordshire



Are they corks on these? Not saying it's not cork but all the plates on my 20T look like yours but all are thin. No way should you be able to twist it by hand to make it slip..
Have you got the correct amount of plates? It sounds like something is bottoming and holding the pressure off. Do you have the parts book so you can check off every clutch part including the basket and it's fixings.

I did re-line a cork clutch a few weeks ago. Boil the forks in a pan and then let it stand for a few hours. They will then be soft enough to work with and you  can then squeeze them in thin end first. Try to get as level as possible. I clamped mine in a vice between some flat steel to level them with each other. When dry a quick flat off in some production paper to remove high spots. It works well.

Put a picture on of you clutch plates fitted in the basket without the springs and top on.

Ken

kerabo




Posts

: 2580


Join date

: 2008-02-11


Age

: 68


Location

: Falcon 87..1936 Cruiser 39. Falcon 81 Green Lane bitsa. Sunbeam S8. Honda Deuville.



Thanks for the replies Sandy and Ken. I have the Goddard manual, and the spares / owners manuals which have been lucky autojumble and ebay finds over the years. Thanks for the offer to send copies though, they're invaluable to have!
I got the clutch to stop slipping in the end, I flatted the plates back again and added two extra plates. I was using the correct number of plates for a 17T (5 plates) but was having little joy getting enough clamping force on the plates. After countless attempts to get it working I decided to pack out the springs a bit more by adding two extra plates and bringing it to the 20/25T plate count. That seems to have sorted the slip and its operating nicely on the bench. Haven't run the engine yet but its no longer slipping by hand at least.
The material on the plates appears to be sintered asbestos with brass flakes mixed into it. The segments literally push out of the friction plates, I think that makes them the early type pre bonded plate? They likely started out as cork I'd imagine but asbestos was fitted later.

I fitted a new Alpha bearings little end bush but after pressing it in the gudgeon pin no longer fits and the cheap ebay reamer made a mess of it, this was a red face moment as I've fitted literally thousands of bushes and bearings to engines in work without issue! Think I might seek help to rectify my troubles on that front so I dont slaughter another bush. Then barrel and carb on and sort the loom / prs8 switch and see if it'll fire. Getting close!

Cruiser79




Posts

: 82


Join date

: 2009-03-05


Location

: Dublin



When you look at my clutch, the plates pack out to the very edge of the slots in the basket. There is no room to fit more, the fact you did makes me think it was incorrect before. Anyway you will see how it all works when you start it.
A reamer is a little aggressive to open up a little end. I fitted a little end but used a spring loaded honing tool in a drill wetted with WD40. It's a little slow but you can get it exact.

Keep up the good work
Ken

kerabo




Posts

: 2580


Join date

: 2008-02-11


Age

: 68


Location

: Falcon 87..1936 Cruiser 39. Falcon 81 Green Lane bitsa. Sunbeam S8. Honda Deuville.




kerabo




Posts

: 2580


Join date

: 2008-02-11


Age

: 68


Location

: Falcon 87..1936 Cruiser 39. Falcon 81 Green Lane bitsa. Sunbeam S8. Honda Deuville.



Basically the clutches are all the same, but the smaller engines used less plates, it is possibly you had part of a larger engine clutch requiring more plates and part of a smaller engine clutch requiring less plates, spring pins and springs will be different lengths , possibly causing your problem, so not all clutches are packed out to the edge of the basket.
Another note, the 15T clutch also appears the same as all the other models , but the centre has a smaller spline for the smaller gearbox main shaft spline.
Not everything that looks the same is the same thing and some things vary between the 17T and the 20T engine in the clutch department, but both clutches will interchange completely, but some components cannot be swapped from early 17T engines to 20T.
Pretty well by engine No 17T 3032 everything was the same ( including the conrod and piston) only differences were the barrel ( shorter with different carb fitting), crank flywheels ( shorter stroke) Lucas alternator ( wipac on 20T) and Carburettor ( standard type Amal monobloc on 20T, special angled fit on 17T)

piston 197

Moderator




Posts

: 4223


Join date

: 2008-08-17


Location

: ross-on-wye





Similar topics
---
Permissions in this forum:
You
cannot
reply to topics in this forum