Dear All, my recently bought Plover 95 (1964) seems to have a very weird gearbox. I assume it is supposed to be of the "one up, two down" (3 speed) variety. One up produces first gear with no problems, but then pushing the gearshift right down produces neutral. Down again gives what feels like second, but that seems all. Any more downshifts produce second again, as if that is top gear. So it has what is in affect a two speed gearbox with a top speed of around 35 mph, before vibrations set my teeth on edge! Any advice from another Plover 95 owner would be much appreciated. Safe riding all, from James (I forgot to say that the motor is the normal AMC/Villers 15T)

1953Man




Posts

: 13


Join date

: 2017-07-22


Age

: 65


Location

: Isle of Lewis, Scotland, G.B.



I cannot tell you what is wrong with the gearbox, but my first bike was a AMC James Cadet 150 it was as you say one up and 2nd and 3rd down. As a 16 year old my mechanical skills were very limited but it never gave much problem.

Rex Stewart




Posts

: 43


Join date

: 2017-09-21


Age

: 68


Location

: Aberdeenshire



Hello
Good to see your post. Against better advice I felt sorry for a neglected Model 95 an autojumbler had. That was 2 years ago.
It had been seriously messed about including having had a Honda H100 engine and 17" rear wheel shoehorned in. So many things had been been botched welded on /cut off. I've found a basket case engine and other part and finally in the last 6 weeks have it together very 'rough and ready' but it has been reluctant to start.
I don't recall any problem with the gearbox. Did you strip down your gearbox is is this the way it has been?
I'll check it again later to be sure. see pic 'Start point'
Best wishes
Keith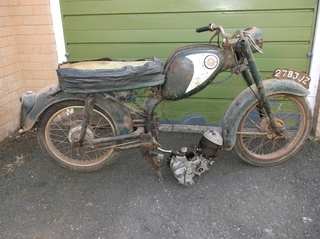 keith livingstone




Posts

: 67


Join date

: 2012-11-25


Age

: 61


Location

: Northern Ireland



You are going to have to get the spanners out and your hands dirty ! the gearbox being a 3 speed is about the simplest there is, it involves one sliding pair of gears engaging with low gear for 1st, with high gear for third and with themselves for second, this is all controlled by the selector mechanism and this is where your problem will lie, either with a worn ratchet or broken or weak spring,
I have some gearbox spares, so best to take it apart and see where the problem lies ? if you find the culprit, i may be able to help ?
JH

piston 197

Moderator




Posts

: 4256


Join date

: 2008-08-17


Location

: ross-on-wye



Good morning all, thanks for the advice - I was afraid someone was going to say that I will have to take the engine apart! The bike is as it was when I bought it earlier this year, but it has not been in use on the road because of problems with its paperwork at the D.V.L.A. (now sorted). I can't do much at the moment either as Diane (wife) had a new knee fitted last week and needs me not to be out in the barn for hours with dirty hands! I must admit to being petrified of taking a gearbox to pieces, but I have nothing to lose and I am grateful to Piston 197 for the encouraging words that it is not difficult. Forgive my ignorance, but will this involve taking the two halves of the crankcase apart, or can the gears be reached through one side with the motor left in situ? I have changed whole car engines in the past a long time ago, but the most complicated I have ever actually dismantled is a lawnmower! But, as I said, I probably wont't be able to do much until after Christmas, so I'll use the time to do some reading on the subject. Best wishes to you all and thanks again, from James

1953Man




Posts

: 13


Join date

: 2017-07-22


Age

: 65


Location

: Isle of Lewis, Scotland, G.B.



Yes remove klick start and gear change, dosconnect cluthc cable, rempove the chrome cover and the gearbox end case will be exposed, this can be stripped out with the engine in situ, if you need to remove the mainshaft you will have to strip the clutch and gearbox sprocket off, but i cannot see removing the mainshaft will be necessary?, almost certainly the fault will lie inside the gearbox end case ?
JH

piston 197

Moderator




Posts

: 4256


Join date

: 2008-08-17


Location

: ross-on-wye



Thanks Piston 197 for advice and offer of help with spares. I am going to have a go at tackling this problem, but it won't be for a month or so, as I said. I am not in my comfort zone with computers and only have this iPad, but if I can do it, I will put some pictures on if there is anything which might be of interest. I am encouraged by your picture of your Plover 95, Keith: if you can tackle a bike in that condition and get it running, I have no excuses for wimping out with mine! Thanks to you all for your interest. Best wishes from James

1953Man




Posts

: 13


Join date

: 2017-07-22


Age

: 65


Location

: Isle of Lewis, Scotland, G.B.




---
Permissions in this forum:
You
cannot
reply to topics in this forum