Calling all ignition wizards!
I have looked at some old threads about 1H ignition, but still 'don't get it'!
I have a weak/ intermittent spark.
There seems to be ways of rewiring to improve the spark, here are my questions:
On the stator there are two lighting and two ignition coils. Two are big, two are small, which is which? (Original wires to crankcase disconnected).
At present I am using an original 'Bakelite' type ignition coil.
I also have a standard Lucas coil, but it is not ac (which I understand is important).
Is there a way of wiring all coils to charge the battery, and running high tension ignition coil off that?
As I say I feel like a real numpty, and would appreciate any help!
Thanks from FBOC new boy,
Geoff

Geoff Hooper




Posts

: 5


Join date

: 2014-05-12


Age

: 52


Location

: Somerset



Last edited by Bigjim on Mon Apr 10, 2017 7:56 am; edited 1 time in total

Bigjim




Posts

: 171


Join date

: 2016-06-13



Thanks for that Jim, really useful information, so the 1H coil is between 3'000 and 4,000 ohms, most my spare coils are unmarked. Mike

MoscowFlyer




Posts

: 1111


Join date

: 2008-02-21


Age

: 72


Location

: Leicestershire



Just reread your original post. The 1H is a single, thus it won't have 2 ignition coils. My 1H book shows 4 coils, with the left, is 9'o clock
coil
being the low tension
coil
. Red lead to the large diameter plug, on the case. Is the key switch working properly?  It's a bit crude, in that when off, it grounds the
coil
so it can't spark. I'll scan the page later today and post it.
Looking a bit harder at the drawing, there are 2 ignition coils in parallel, 9 & 3 o' clock. Labeled as 8x18.  Whilst the lights are 6x18. Check both coils, if one has shorted, it will pull the other out as well.
here's the electrical diagram for the 1H.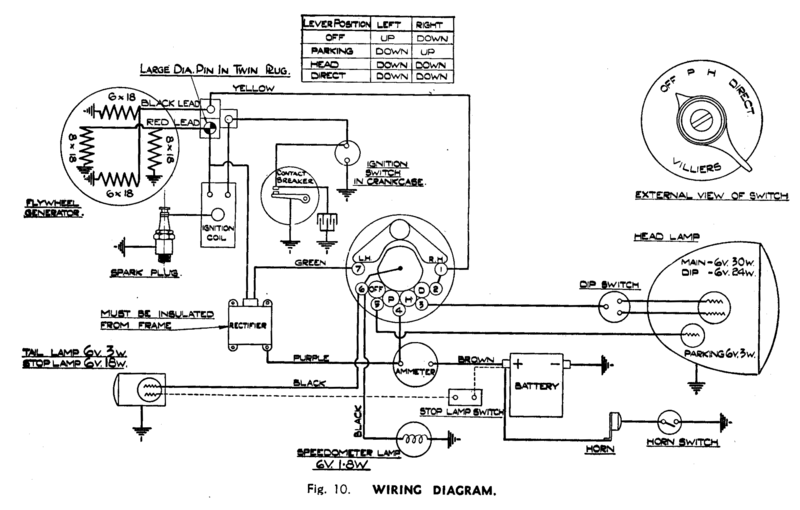 Bigjim




Posts

: 171


Join date

: 2016-06-13



VILLIERS SERVICE, BULLETIN NO. M/c 16.
MODEL AFFECTED: Mk 1H. Engine Gear Unit.
IGNITION CIRCUIT
Because of certain difficulties which appear to have been encountered in the servicing and maintenance of the Mk 1H Magneto, on account of its slightly unconventional circuit, and because of the omission of certain information, regarding possible causes of trouble, from the "Operating Instructions & Spare Parts Lists", dated April 1954, it has been decided to issue a Service Bulletin on this subject.
OPERATION
Referring to the Wiring Diagram on page 37 of the "Operating Instructions & Spare Parts List", it will be seen that the flywheel generator is provided with two pairs of coils. The pairs are not interchangeable, being specially designed for their respective functions. The primary winding of the external Ignition coil is energised by the 8 x 18" pair, via the large diameter socket on the Gearbox casing, the circuit being completed through the contact breaker to earth. It will be seen, therefore, that although the ignition coil is remote the arrangement gives normal magneto operation and should not be confused with battery— coil ignition.
The rectifier comprises two cells, commonly connected on their positive sides to a conventional charging circuit. One cell is connected to the generator side of the Primary winding, so that when the primary voltage exceeds that of the battery a rectified current is taken from the primary energizing coils which tends to stabilize the voltage across the primary, and provides the "Day—light" charge. This "voltage control" gives an Ignition performance which is similar to that obtained with Battery coil ignition, i.e. a superior low speed sparking performance but without the latter's degree of dependence on the battery.
The system is dependent upon the satisfactory working of the charging circuit, as without "control", the primary voltage will rise to an excessive value at the higher engine speeds, which may result in burned contact breaker points and a form of pre—ignition which will be evidenced by loss of engine power. Starting, however, would not be affected, unless a short circuit occurred in the charging circuit, or in the lighting circuit, if in use.
The "Day—light" charge is augmented when the Lighting switch is in the "H" or "Direct" position, as the other pair of coils on the generator is then connected to the second cell of the rectifier.


Bigjim




Posts

: 171


Join date

: 2016-06-13




---
Permissions in this forum:
You
cannot
reply to topics in this forum